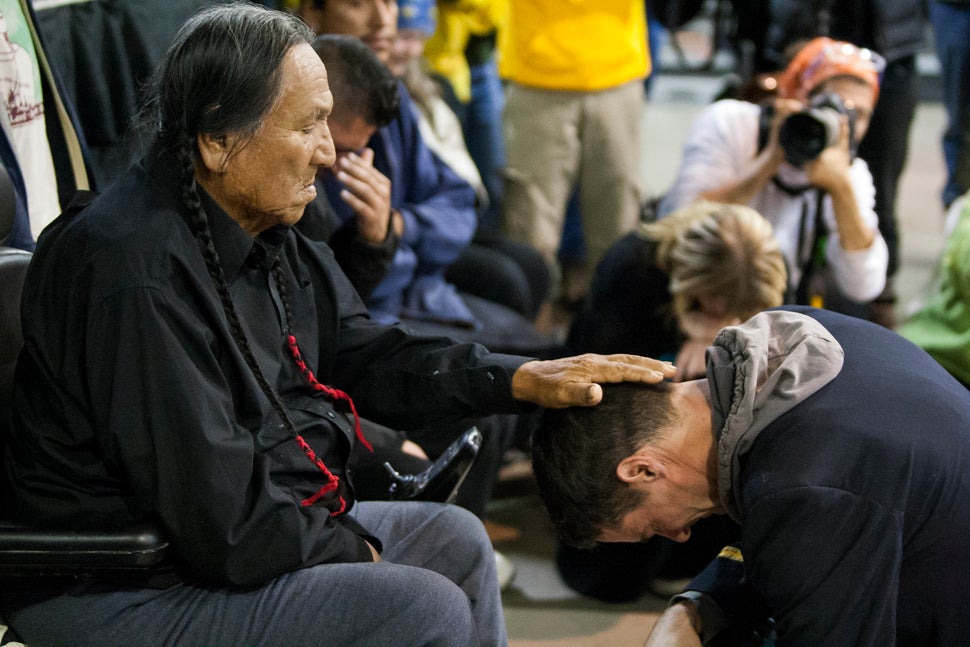 Photo by Josh Morgan for The Huffington Post

*
First peoples know better than others do
that victory is temporary, that
they must continue to be vigilant.
They don't take down their tents and they don't turn
their backs while corporations hover near
to snake pipelines through land and water dear.
This day's ceremony establishes
instead forgiveness rites, as veterans
who stand with Water Protectors kneel down.
The media reports: "Leonard Crow Dog
formally forgave Wes Clark Jr." for
actions against Natives through history.
*
We will remember Crow Dog's words that
"we do not own the land, the land owns us"
*
We will record Wes Clark's apology:
Many of us, me particularly, are from the units that have hurt you over the many years. We came. We fought you. We took your land. We signed treaties that we broke. We stole minerals from your sacred hills. We blasted the faces of our presidents onto your sacred mountain. When we took still more land and then we took your children and then we tried to take your language and we tried to eliminate your language that God gave you, and the Creator gave you. We didn't respect you, we polluted your Earth, we've hurt you in so many ways but we've come to say that we are sorry. We are at your service and we beg for your forgiveness.
*
Many of us, me particularly,
kneel with veterans who transgressed for us--
in our names—and now atone for us.
Let us make this more than symbolism.
Let us surrender to wisdom, become
Protectors and learn struggle, love and peace.
With Gratitude to the Water Protectors of Standing Rock
* I took my information, photos and quotes from

The Huffington Post

's

unsigned story:

"

Forgiveness Ceremony Unites Veterans And Natives At Standing Rock Casino." Please let me know who to acknowledge in fair use of this material.
My blog poems are rough drafts.


Please respect my copyright.